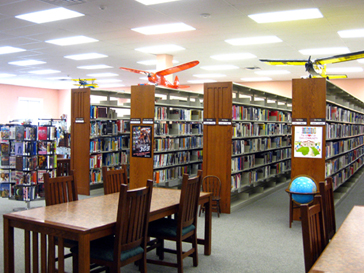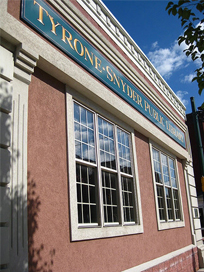 Help Us be Debt Free!
It's now possible to donate to the library's mortgage fund via youcaring: our goal is be debt-free by May of 2018, and if everyone who recognizes the importance of the library to the Tyrone-Snyder community, we know we can reach it! Please donate, and share with your friends!
Lego Club
The next Lego Club is Saturday August 26th from 12-2 PM. Join us for a Lego Mystery Challenge! Each builder will get a bag of pieces and must use all contents in their creation!
Kids ages 6-13 can join their fellow Lego enthusiasts for an afternoon of non-stop building. This program is free and open to the public. We ask that caregivers stay in the library.
Woman and Money
Presentation is Thursday August 31st at 5:45 PM. Presented by Thrivent Financial, Women and Money is a presentation that discusses the unique financial situations of women. This program will feature a special guest panel that will include WTAJ's Amanda Kinney. A light meal will be served with the program starting at 6pm. Registration is required for this free program. The registration deadline is August 23rd.
Free GED Classes
Free GED classes are being held in the library Tuesdays and Thursdays from 12:30-3:00 PM. Students can join the class at any time. In addition to GED test assistance, this class also offers post-secondary prep and medical terminology assistance. To register, call us at 684-1133 or message us on Facebook.
2018 Josh Gallagher Concert: Tickets on Sale NOW!
Our 2018 fundraiser concert stars Josh Gallagher, and tickets are on sale now! Save the date for Saturday, May 5th, 2018, and get your $35 dollar ticket at the library checkout desk or by calling 684-2030.
Ancestry.com Available in the Library
Ancestry.com access is now available at the library! Use ancestrylibrary.com in our computer lab, or access it inside the library via your laptop or ipad. Please note that Ancestry.com access is only available in the library. You will not be able to to access it via this link if you are viewing our website at home.
Alleghenies Ahead Survey
The Blair County Planning Commission seeks your input for Alleghenies Ahead, their new strategic plan. Please provide the Commission with your views on how your tax dollars should be spent on issues such as: blighted properties, drugs, infrastructure, shopping, economic development in an online survey available at http://allegheniesahead.com/.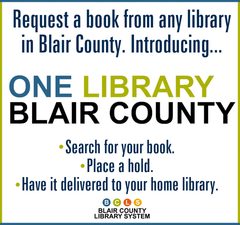 Get Library Books from Any Blair County Library!
It is now possible to request books and other materials from any library in Blair County. Click
here
for instructions, or ask a librarian for help.
Get E-Books With Overdrive
Free e-books are available with your library card through the Altoona District Libraries
Log-in with the barcode on your library card, leaving off the last character unless it's a number.

Complementary access to the New York Times online is now available through the library! To activate your subscription, you will need to log in or register first. Click
here
for 24 hours of full off-site access to NYTimes.com.
We are a PA Forward Star Library
The Tyrone-Snyder Public Library is proud to be a PA Forward Star Library. Learn more about what PA Forward Libraries do for the communities they serve at PAForward.org