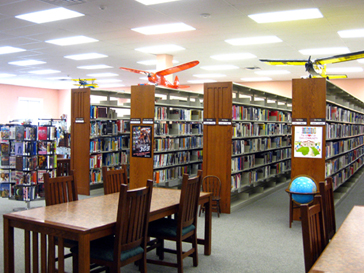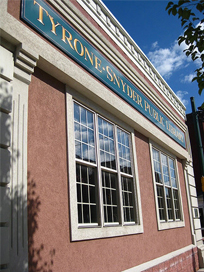 VITA Income Tax Program Information
This is a reminder that the library is no longer hosting the VITA Income Tax Program that helps senior citizens with their income tax preparation. The program is now hosted by the Northern Blair Senior Center. To make an appointment to have your taxes done at the Senior Center, call 946-1235 between 8 AM and 4 PM Monday-Friday.
Lucky Lego Club
Our March Club Lego will be on Saturday, March 4th from noon-2 PM, and we'll be warming up for Irish Heritage Fest by celebrating all things Saint Patrick's Day related! Club Lego is for kids ages 6-13, and is free and open to the public. Adult supervision is not required, but we do ask that caregivers stay in the building while kids construct.
Friends of the Library Meeting
Our Friends of the Library will be holding their next meeting in the library's history room on Tuesday, March 7th at 6 PM. This meeting is open to the public. Friends of the Library help library staff with programs and fundraising, and new members are always welcome! Get involved, and help the library continue to be a great community resource!
Procraftinators Crafting Meetup
Procraftinators: Procrastinating Crafters! Join your fellow crafters and tackle those unfinished projects at our Procraftinators Craft Meetup on Thursday, March 9th from 5-7 PM. Crafters are responsible for bringing their own materials/projects. All crafting types and levels of ability are welcome!
Longaberger Basket & Vera Bradley Bingo
Longaberger Basket and Vera Bradley lovers, save the date! Our 2017 bingo will be on Sunday, March 12th at Saint Matthew's Hall! Doors open at 1:15 PM, games begin at 2 PM.
Luck of the Irish Rummage Sale
Shop our annual Luck of the Irish Rummage Sale on Friday, March 17th from 6-8 PM and Saturday, March 18th from 10 AM-2 PM. We'll have an assortment of gently used and new items including seasonal decorations, kitchen gear, knick knacks, jewelry, toys, and all kinds of odds and ends. Great prices for a great cause! All proceeds benefit the Friends of the Tyrone-Snyder Public Library. If you are interested in donating items for the sale, donations may be dropped off at the library during our regular hours until Friday, March 17th.
Blarney Blast Family Fun Night
Our annual Irish Heritage Fest Family Fun Night will be on Friday, March 17th from 6-8 PM. We'll have free make and take craft, activities, and a Saint Patrick's Day themed story time with WTAJ's John Clay! This program is free and open to the public, but we ask that caregivers stay with their children.
Friends of the Library Bake Sale
The Friends of the Tyrone-Snyder Public Library will be holding a bake sale during Irish Heritage Fest on Friday, March 17th from 6-8 PM. Any leftover baked goods will be sold on Saturday, March 18th from 10 AM-2 PM. Donations of bagged baked goods will be gratefully accepted up until the Friday afternoon before the sale.
Joybeans Coffee and Cookies Day
We're paying tribute to Wendy Boytim and her much loved, much missed Joybeans coffee shop with free coffee, tea, and homemade cookies in the library from noon-7 PM on Tuesday, March 21st!
Many thanks to the Women's Club of Tyrone for making this regular event possible. Watch our facebook page and website for future Joybeans Coffee and Cookies dates.
Craft in America Screening & Discussion
In early 2017 the library will be hosting a series of screenings of the PBS documentary series Craft in America followed by optional discussions. Attendees are welcome to bring a bagged lunch, and the library will provide drinks and a dessert at each screening.
Tuesday, March 21st @ 11:30 AM: MUSIC: The Music episode features finely crafted handmade musical instruments and the world renowned artists who play them.
This program is an hour long, and the optional discussion that will follow each screening will run from 12:30-1:00 PM. This screening is free and open to the public.
Moon Day
Visit outer space via the library at a special Moon Day for kids of all ages on Saturday, March 25th from 1-3 PM. The Grier School will be presenting a special showing of actual moon rocks on loan from NASA, and we'll have a variety of space themed activities and stories. This program is free and open to the public, but we ask that caregivers stay with their children.
Essential Oils: Stress Less
Carol Scarbro of the Allegheny Essential Oils Club will show you just how easy it is to use essential oils to help reduce stress in your life on Thursday, March 30th at 5:30 PM. Registration is required for this free program. To register, sign up at the checkout desk, message the library on Facebook, or call 684-1133.
Free Weekly Story Hour for Kids 3-5
Story Hour happens every Monday at 10:30 AM. Story hour will resume on Monday, January 30th, 2017 and will continue every Monday through late May. Story hour is for kids ages 3-5 and incorporates stories, songs, games, crafts, and fun! This program is free and open to all children ages 3-5, but we ask that a caregiver stay in the building while the child attends the program. To register your child, message us on Facebook or call 684-1133.
Babies Boogie
Babies Boogie boogies into the library on Thursdays at 10:30 AM. Babies Boogie, our song and dance themed story time for children ages 18 months-3 years will resume on Thursday, February 2nd, 2017 and continue each Thursday until late May. Walk-ins and new families are always welcome! Babies Boogie is free and open to the public, but we ask that a caregiver stay with the child for the duration of the program.
Sixteen Candles for Sixteen Concerts: TICKETS ON SALE NOW!
Our 2017 fundraising concert on Saturday, May 6th 2017 will feature Oscar winning Nashville artist Vanessa Campagna and a very special guest appearance by the Brooklyn Bridge. For tickets, call 684-2030. To hear more, visit http://www.vanessacampagna.com/ and The Brooklyn Bridge greatest hits !
Ancestry.com Available in the Library
Ancestry.com access is now available at the library! Use ancestrylibrary.com in our computer lab, or access it inside the library via your laptop or ipad. Please note that Ancestry.com access is only available in the library. You will not be able to to access it via this link if you are viewing our website at home.
Get E-Books With Overdrive
Free e-books are available with your library card through the Altoona District Libraries
Log-in with the barcode on your library card, leaving off the last character unless it's a number.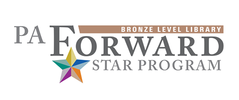 The Tyrone-Snyder Public Library is proud to be a PA Forward Bronze Star Library. Learn more about what PA Forward Libraries do for the communities they serve at PAForward.org