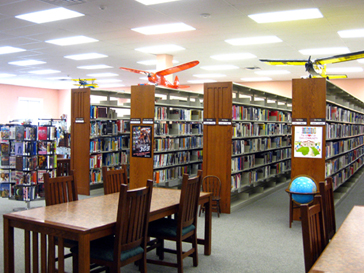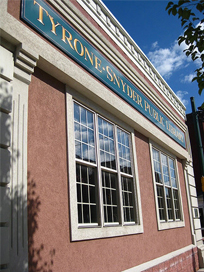 Exercise Your Mind Adult Summer Reading Program Closing Ceremony
We're celebrating the accomplishment of our Adult Summer Readers at a special closing ceremony on Wednesday, August 24th at 6 PM. Refreshment, bookworm fellowship, and the announcing of the top readers. Please register for this event by signing up at the checkout desk or messaging us on Facebook–all summer reading program participants are invited to attend.
Procraftinators Crafting Meetup
Procraftinators: Procrastinating Crafters! Join your fellow crafters and tackle those unfinished projects at our Procraftinators Craft Meetup on Thursday, September 8th from 5-7 PM. Crafters are responsible for bringing their own materials/projects. All crafting types and levels of ability are welcome!
Friends of the Library Fall Rummage Sale
Our Friends of the Library will be holding a rummage sale in our community room during the Tyrone Community Yard Sale on Saturday, September 10th from 10 AM-2 PM. We'll have a variety of glassware, household items, seasonal decorations, toys, games, and jewelry available. All proceeds benefit the Friends of the Tyrone-Snyder Public Library.
Pokemon Club & Club Lego Mashup!
"You got your Pokemon in my Legos!" "No, you got your Legos in my Pokemon!" We're combining our Club Lego & Pokemon Club programs on Saturday, September 24th from noon-2 PM. Build your favorite Pokemon out of Legos! This free program is for kids ages 6-13, and adult supervision is not required, although we do ask that caregivers stay in the building while kids construct.
Story Hour Starts in September
Story Hour returns to the library on Monday, September 18th and will continue every Monday through mid-December. Story hour is for kids ages 3-5 and incorporates stories, songs, games, crafts, and fun! This program is free open to all children, but we ask that a caregiver stay in the building while the child attends the program. To register your child, message us on Facebook or call 684-1133.
Babies Boogie
Babies Boogie, our song and dance themed story time for children ages 18 months-3 years, will be boogieing back to the library on Thursday, September 22nd and continuing at 10:30 AM every Thursday until mid-December. Walk-ins and new families are always welcome! Babies Boogie is free and open to the public, but we ask that a caregiver stay with the child for the duration of the program.
Craft in America Screening & Discussion Series
From September to November this fall, the library will be hosting screening of the PBS documentary series Craft in America followed by an optional discussion. Attendees are welcome to bring a bagged lunch, and the library will provide drinks and a dessert at each screening.
Tuesday, September 20th @ 11:30 AM: The September screening is "Community." Community carries with it many meanings in the world of craft, including the social traditions passed down from generation to generation and a community of people, bound together on a project, helping one another.
Tuesday, October 18th @ 11:30 AM: The October screening is "Origins." The American craft tradition didn't appear fully formed and mature. Where have our practices come from? How are they passed down?
Tuesday, November 29th @ 11:30 AM: The November screening is "Holiday." Embrace traditions both old and new–all part of our American experience with the handmade, featuring handmade menorahs, hand-blown glass ornaments, hand-carved totems, and a national gingerbread competition.
Each program is an hour long, and the optional discussion that will follow each screening will run from 12:30-1:00 PM. These screenings are free and open to the public.
Ancestry.com for Libraries Class
The library will be presenting a free class on how to use the ancestry.com for libraries database in our community room on Wednesday, September 29th at 11 AM.
Ancestry.com Available in the Library
Ancestry.com access is now available at the library! Use ancestrylibrary.com in our computer lab, or access it inside the library via your laptop or ipad. Please note that Ancestry.com access is only available in the library. You will not be able to to access it via this link if you are viewing our website at home.
Get E-Books With Overdrive
Free e-books are available with your library card through the Altoona District Libraries
Log-in with the barcode on your library card, leaving off the last character unless it's a number.