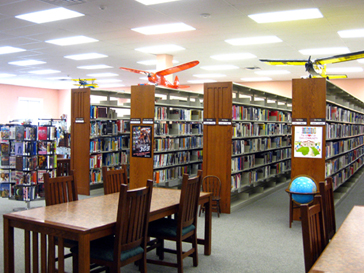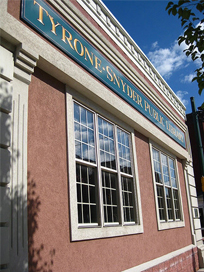 Equip our Eagles School Supply Drive
Currently we're looking for local churches, businesses, and community organizations willing to host collection boxes for Equip Our Eagles, our school supply drive for children in grades K3-4 enrolled in the Tyrone Area School District. If you're interested in being a collection site for the drive, please e-mail director@tyronelibrary.org. A library representative can drop off and pick up the box. The distribution of supplies collected in the drive has been scheduled for Saturday, August 15th from 10 AM until supplies run out.
The Collage Lab is Now Open
Collage Lab is an ongoing art station we'll have available for artists of all ages during our regular operating hours. All the supplies needed will be provided by the library: you supply your own creativity. The Collage Lab is located near the children's section of the library.
Procraftinators Craft Nights
Procraftinators = procrastinating crafters! Bring those unfinished craft projects to the library and get to know your fellow crafters at our next craft nights on Thursday, July 9th and 23rd from 5-7 PM. You bring your own crafting supplies, we provide ample crafting space and electricity. Craft Night is free and open to the public. Walk-ins welcome!
Every Hero Has a Story Summer Reading Program
Our Summer Reading Program for children and teens will begin on Monday, June 22nd and continue until Saturday, August 1st. Registration for the program will begin at noon on Monday, June 22nd. The program will run until August 1st, with special events to occur in the library during June, July, and August.
Babywearing International of Central Pennsylvania
The library is hosting Babywearing International of Central PA meetings this summer. If you want to learn more about babywearing, join them at their next meeting in the library's community room on July 20th at 10:30 AM.
Heroes of the Natural World 2015 Outdoor Activity Series
Kids 6-12 and their caregivers can meet Miss Lana at local parks and nature trails every Wednesday at 10:30 AM from July 22nd through August 5th for lessons, games, hands-on activities, and stories. The programs will run until noon, when kids can break for a brown-bag picnic lunch and story.
This series is free and open to the public, but we ask that caregivers stay with their children. Families are responsible for bringing a bag lunch and drinks for their children.
August 5th Tree Trek at the Albemarle Nature Trail: Be part of a real adventure while learning about trees along the way. Meet at the trail head (on Back Vail Rd). This activity is rain or shine, but if thunder is present, it will meet in the library's community room.
For questions about Heroes of the Natural World, contact Lana at 682-1017.
Club LEGO: Back to School
With back to school times just around the corner, we'll be designing the schools of the future at the August session of Club Lego. Kids ages 6-13 can join their fellow Lego enthusiasts for an afternoon of non-stop building on Saturday, August 1st from noon-2 PM. This program is free and open to the public, but we ask that caregivers stay in the library while the kids construct.
Crafternoons
Starting in July, the 2nd Tuesday of every month will be our Crafternoon (that's crafting afternoon)! Each crafternoon will feature a project for teens, tweens, and adults, and projects will often incorporate recycled materials. The library will supply all the crafting supplies you need–just bring your creativity! The first Crafternoon will be on Tuesday, August 11th from 4:00-5:30 PM, and the craft project will be geometric paper collages. This program is free and open to the public.
Cushion Concert with the Altoona Symphony Orchestra
The Altoona Symphony Orchestra will be presenting a free cushion concert for kids of all ages on Tuesday, August 11th at 6 PM. This concert is free and open to the public, but we ask that caregivers stay with their children.
Teen Trivia Night
Join us in the community room on Thursday, August 20th at 6 PM for our first ever Teen Trivia Night! Trivia in multiple categories, free snacks, and prizes for the winners!
Get E-Books With Overdrive
Free e-books are available with your library card through the Altoona District Libraries
Log-in with the barcode on your library card, leaving off the last character unless it's a number.
Letterman 2016 Concert Tickets on Sale Now!
The Lettermen are coming back in 2016 with their Best of Broadway show! The Best of Broadway with the Lettermen will be Saturday, May 7, 2016 at 7:00 PM at the Tyrone Area High School auditorium. For tickets, call 814-684-2030. Tickets are $35 each, all seats reserved.