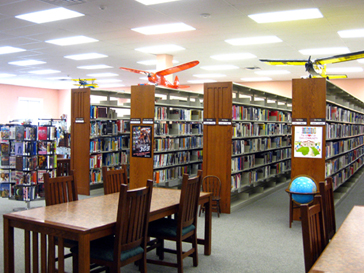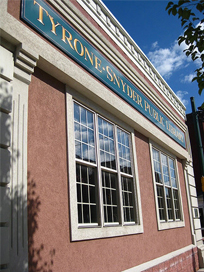 Festival of Trees: FINAL WEEK!
Christmas has arrived at the library early as we begin our 3rd annual Festival of Trees fundraiser. From November 17th through December 9th, fully decorated Christmas trees donated by local businesses, organizations, and individuals will be on display in the library, and we'll be selling chances to win the entire tree, decorations, tree skirt, and all. Winners will be drawn on December 9th—enough time to take your new tree home and enjoy it throughout the holiday season. Winners are responsible for picking up and transporting their trees.
Joybeans Coffee and Cookies Day
We're paying tribute to Wendy Boytim and her much loved, much missed Joybeans coffee shop with free coffee and cookies in the library from noon-7 PM on Thursday, December 8th! Please visit the library on December 8th and enjoy some of that old Joybeans spirit!
Many thanks to the Women's Club of Tyrone for making this regular event possible. Watch our facebook page and website for future Joybeans Coffee and Cookies dates.
Procraftinators Crafting Meetup
Procraftinators: Procrastinating Crafters! Join your fellow crafters and tackle those unfinished projects at our Procraftinators Craft Meetup on Thursday, December 8th from 5-7 PM. Crafters are responsible for bringing their own materials/projects. All crafting types and levels of ability are welcome!
Club Lego: Gingerbread Home Improvement
At our December Club Lego on Saturday, December 10th from noon-2 PM we get into the holiday spirit as we invite club members to build a better gingerbread house–a gingerbread house made out of Legos! Club Lego is for kids ages 6-13, and while adult supervision is not required, we do ask that caregivers stay in the building while kids construct.
Friends of the Library Meeting
Our Friends of the Library will be holding their annual meeting in the library's history room on Tuesday, January 10th at 6 PM. This meeting is open to the public. Friends of the Library help library staff with programs and fundraising, and new members are always welcome! Get involved, and help the library continue to be a great community resource!
Craft in America Screening & Discussion
In early 2017 the library will be hosting a series of screenings of the PBS documentary series Craft in America followed by optional discussions. Attendees are welcome to bring a bagged lunch, and the library will provide drinks and a dessert at each screening.
Tuesday, January 17th @ 11:30 AM: LANDSCAPE The January screening is "Landscape." This episode looks at the processes through which natural materials become finished works of craft, and what deeper messages may be contained therein.
Tuesday, February 21st @ 11:30 AM: MEMORY: Memory takes a personal tour through the history of craft in America, beginning with the pioneers in the field.
Tuesday, March 21st @ 11:30 AM: MUSIC: The Music episode features finely crafted handmade musical instruments and the world renowned artists who play them.
This program is an hour long, and the optional discussion that will follow each screening will run from 12:30-1:00 PM. This screening is free and open to the public.
Free Weekly Story Hour for Kids 3-5
Story Hour happens every Monday at 10:30 AM until December 12th. Story hour will resume on Monday, January 30th, 2017.Story hour is for kids ages 3-5 and incorporates stories, songs, games, crafts, and fun! This program is free and open to all children ages 3-5, but we ask that a caregiver stay in the building while the child attends the program. To register your child, message us on Facebook or call 684-1133.
Babies Boogie
Babies Boogie, our song and dance themed story time for children ages 18 months-3 years, boogies into the library on Thursdays at 10:30 AM until December 15th. Babies Boogie will resume on Thursday, February 2nd, 2017. Walk-ins and new families are always welcome! Babies Boogie is free and open to the public, but we ask that a caregiver stay with the child for the duration of the program.
An Evening with Ricky Howsare: TICKETS ON SALE NOW!
Our 2017 fundraising concert on Saturday, May 6th 2017 will feature popular local artist Ricky Howsare in his first ever spotlight performance. If you loved Ricky's music when he opened for the Lettermen in 2014, here's your chance to enjoy an entire evening with this rising star! For tickets, call 684-2030. To learn more about Ricky's music, visit http://www.rickyhowsare.com/
Ancestry.com Available in the Library
Ancestry.com access is now available at the library! Use ancestrylibrary.com in our computer lab, or access it inside the library via your laptop or ipad. Please note that Ancestry.com access is only available in the library. You will not be able to to access it via this link if you are viewing our website at home.
Get E-Books With Overdrive
Free e-books are available with your library card through the Altoona District Libraries
Log-in with the barcode on your library card, leaving off the last character unless it's a number.