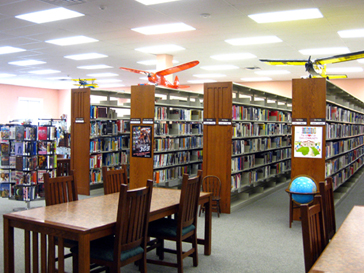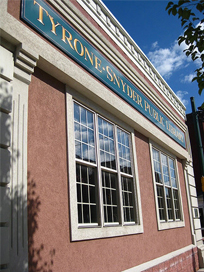 Our Town: Tyrone
Interested in helping film footage for the upcoming Tyrone episode of WPSU's Our Town series? The library has video cameras you can check out temporarily to film material for the show. Ask for the cameras at the checkout desk.
Procraftinators Craft Nights
Procrastinating crafters = procraftinators! Join us for an evening of crafting & conversation from 5-7 PM on Thursday September 11th and 25th. We provide ample crafting space & electricity: you bring your crafting supplies and creativity.
Special Story Hour: Local Author Lori Closson Presents Macaroni Makenzie
Local author Lori Closson will be reading her children's book Macaroni Makenzie during our story hour on October 6th, 2014 at 1 PM. This special story hour is open to all children. No pre-registration is necessary. Learn more about Lori's book at macaronimakenzie.com!
Careerlink Services Available
A Careerlink representative will be at the library on Wednesday, October 8th from 2-4 PM. Our Careerlink representative can help you update your resume, apply for jobs, and navigate the Careerlink website. This service is free and open to the public. No appointments are necessary, but we recommend calling the library at 684-1133 to confirm availability.
Learn to Draw Scary Halloween Faces
Kids and teens can learn how to draw the creepiest, scariest, most gruesome faces at a special Halloween themed drawing program presented by professional cartoonist Paul Merklein on Tuesday, October 14th at 6 PM. This program is free and open to kids of all ages. Learn more about Paul at his website, greatbigfaces.com!
Story Hour is Back!
Our weekly story hour for children ages 3-5 will begin on Monday, September 15th and continue every Monday from 1-2 PM until December 15th. To sign up your child, register at the checkout desk, message us on Facebook, or call us at 684-1133. Story hour combines books, songs, crafts, games, and nursery rhymes and is free.
Babies Boogie is Boogieing Back to the Library this September
Babies Boogie, our song and dance themed story time and playgroup for children ages birth-3 years, is boogieing back to the library on September 18th, and will continue every Thursday morning from 10:00-11:30 AM until December 18th. To sign up your child, register at the checkout desk, message us on Facebook, or call us at 684-1133. This program is free and open to the public, but caregivers must stay with their children. Materials for Babies Boogie has been funded by generous grants from the Central Pennsylvania Community Foundation and the Altoona Sunrise Rotary.
Get E-Books With Overdrive
Free e-books are available with your library card through the Altoona District Libraries
Log-in with the barcode on your library card, leaving off the last character unless it's a number.
Visit Our Blog!
Learn more about what goes on at the library at our Happenings at the Library blog.