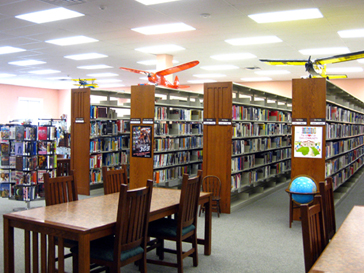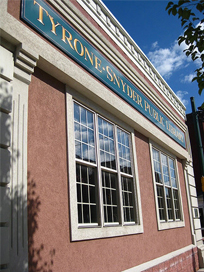 Longaberger Basket Bingo is Coming!
Longaberger Basket lovers, save the date! Our 2014 Basket Bingo will be held at Saint Matthew's Hall on Sunday, March 9th, 2014. We'll have a fantastic group of baskets for you to win, including some recently retired baskets. For more information, visit our Facebook page!
Irish Heritage Fest Family Fun Night
We'll be having a free Family Fun Night in the library after the opening ceremonies of the Irish Heritage Festival on Friday, March 14th from 6-8 PM. Stories, crafts, & face-painting. This program is free, but we ask that caregivers stay with their children.
Trash to Treasure Sale
The Friends of the Library will be holding their Trash to Treasure Sale during Irish Heritage Fest on Saturday, March 15th from 10 AM-2 PM. We are currently accepting donations for the sale. Donations can be dropped off at the library during our regular hours. Please have any donations at the library by March 14th at the latest. If you're downtown for Irish Heritage Fest on the 16th, be sure to drop by the library and browse our selection of household items, collectables, furniture, Christmas decorations, toys, and unclassifiables.
Free Income Tax Preparation for Low-Income Senior Citizens
We will be hosting Blair Senior Service's VITA Income Tax Preparation program in our community room starting in February and running until the end of tax season. Appointments for general returns are available on Tuesdays and Thursdays from 1-4 PM. Appointments for property tax and rent rebate are available Wednesdays from 1-4 PM. To book your appointment or ask questions about your eligibility, call the library at 684-1133.
Babies Boogie at Family Place
Babies Boogie at Family Place, our dance and music themed storytime program for children ages birth-3 years, is boogieing back to the library every Thursday morning in March from 10-11:30 AM. To register your child, call us at 684-1133 or message us on facebook. This program is free and open to the public, but caregivers must stay with their children.
Careerlink Services Available
A Careerlink representative will be at the library on Wednesday, March 12th from 2-4 PM. Our Careerlink representative can help you update your resume, apply for jobs, and navigate the Careerlink website. This service is free and open to the public. No appointments are necessary, but we recommend calling the library at 684-1133 to confirm availability.
Amateur Procraftinators Craft Night
Procraftinators: procrastinating crafters! Make a New Year's Resolution to finish those incomplete crafting projects with an evening of crafting, conversation, and creativity at the library on Thursday, March 13th and 27th from 5-7 PM. We provide ample crafting space, electricity, and refreshments. You bring your crafting supplies and projects.
Story Hour at the Library
Our children's story hour is every Monday at 1 PM from January 6th, 2014 through May 19, 2014. Story hour is for children ages 3-5 and combines stories, games, crafts, nursery rhymes, and songs. Spaces are still available! To register your child, call 684-1133 or register in person at the checkout desk.
Thursday Morning Playgroup
Thursdays from 10-11:30 AM we host an informal playgroup for children ages 12 months- 4 years in our community room. This playgroup is free, open to the public, and requires no preregistration. We have the toys and play space: just add kids!
Come See the Lettermen in 2014!
We've already scheduled our 2014 concert, and tickets are available now! Just Too Good to Be True starring the Lettermen will be held in the Tyrone Area High School auditorium on Saturday, May 3rd 2014 at 7 PM. Tickets are 35 dollars each. Get your tickets by calling 814-682-1017.
Get E-Books With Overdrive
Free e-books are available with your library card through the Altoona District Libraries
Log-in with the barcode on your library card, leaving off the last character unless it's a number.
Visit Our Blog!
Learn more about what goes on at the library at our Happenings at the Library blog.