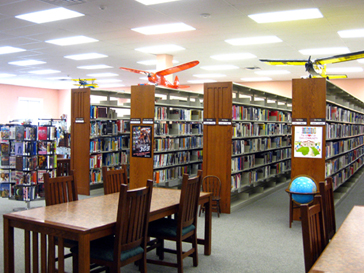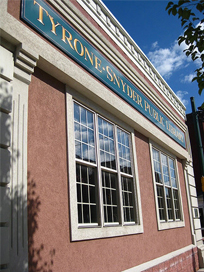 Harvest Hunt
Need a fun, local, and free activity to keep your kids occupied on the Friday, October 28th in-service date? The library will be holding a special scavenger hunt at the Railroad Park on Friday, October 28th at 10:30 AM. Kids ages 5-12 can search for a mixture of naturally occurring and human made items and win prizes! This scavenger hunt is free and open to the public, but we ask that caregivers stay in the park while the kids hunt.
Festival of Trees: Sign Up Now!
Believe it or not, Christmas is not that far away, and it will be arriving at the library even earlier as we begin our 3rd annual Festival of Trees fundraiser .From November 17th through December 9th, fully decorated Christmas trees donated by local businesses, organizations, and individuals will be on display in the library, and we'll be selling chances to win the entire tree, decorations, tree skirt, and all. Winners will be drawn on December 9th—enough time to take your new tree home and enjoy it throughout the holiday season. Winners are responsible for picking up and transporting their trees. If you are interested in contributing a tree, message us on Facebook or e-mail director@tyronelibrary.org for guidelines.
Friends of the Library Meeting
Our Friends of the Library will be meeting in the library's history room on Tuesday, November 1st at 6 PM. Friends of the Library help library staff with programs and fundraising, and new members are always welcome! Get involved, and help the library continue to be a great community resource!
Club Lego: Lego Mystery Challenge!
Our November Club Lego is another Lego Mystery Challenge! On Saturday, November 5th from noon-2 PM, club members will pull a theme out of the Lego Mystery Hat (TM) and are challenged to build the theme they've been challenged with! Club Lego is for kids ages 6-13, and while adult supervision is not required, we do ask that caregivers stay in the building while kids construct.
Used Book Sale
Our Friends of the Library's used book sale will open to the public on Saturday, November 5th from 10 AM-2 PM. The sale will continue during regular library hours through November 8th, with Bag Day discounts happening on the final day of the sale. Thousands of books, games, puzzles, movies, and audio-books available! All proceeds benefit the Friends of the Tyrone-Snyder Public Library.
Friends of the Library can shop early on the Friends Exclusive Preview Sale Days on Thursday, November 3rd from 5 PM-7 PM and Friday, November 4th from 10 AM-3 PM.
Procraftinators Crafting Meetup
Procraftinators: Procrastinating Crafters! Join your fellow crafters and tackle those unfinished projects at our Procraftinators Craft Meetup on Thursday, November 10th from 5-7 PM. Crafters are responsible for bringing their own materials/projects. All crafting types and levels of ability are welcome!
Joybeans Coffee and Cookies Day
We're paying tribute to Wendy Boytim and her much loved, much missed Joybeans coffee shop with free coffee and cookies in the library from noon-7 PM on Thursday, November 17th! Please visit the library on November 17th and enjoy some of that old Joybeans spirit!
Many thanks to the Women's Club of Tyrone for making this regular event possible. Watch our facebook page and website for future Joybeans Coffee and Cookies dates.
Craft in America Screening & Discussion
In November the library will be hosting a screening of the PBS documentary series Craft in America followed by an optional discussion. Attendees are welcome to bring a bagged lunch, and the library will provide drinks and a dessert at each screening.
Tuesday, November 29th @ 11:30 AM: The November screening is "Holiday." Embrace traditions both old and new–all part of our American experience with the handmade, featuring handmade menorahs, hand-blown glass ornaments, hand-carved totems, and a national gingerbread competition.
This program is an hour long, and the optional discussion that will follow each screening will run from 12:30-1:00 PM. This screening is free and open to the public.
Free Weekly Story Hour for Kids 3-5
Story Hour happens every Monday at 10:30 AM through mid-December. Story hour is for kids ages 3-5 and incorporates stories, songs, games, crafts, and fun! This program is free and open to all children ages 3-5, but we ask that a caregiver stay in the building while the child attends the program. To register your child, message us on Facebook or call 684-1133.
Babies Boogie
Babies Boogie, our song and dance themed story time for children ages 18 months-3 years, boogies into the library on Thursdays at 10:30 AM until mid-December. Walk-ins and new families are always welcome! Babies Boogie is free and open to the public, but we ask that a caregiver stay with the child for the duration of the program.
Ancestry.com Available in the Library
Ancestry.com access is now available at the library! Use ancestrylibrary.com in our computer lab, or access it inside the library via your laptop or ipad. Please note that Ancestry.com access is only available in the library. You will not be able to to access it via this link if you are viewing our website at home.
Get E-Books With Overdrive
Free e-books are available with your library card through the Altoona District Libraries
Log-in with the barcode on your library card, leaving off the last character unless it's a number.