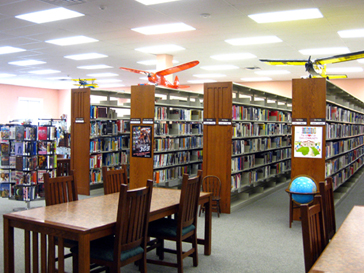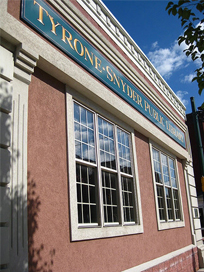 Independence Day Schedule
The library will be closed for the Independence Day holiday on Saturday, July 2nd through Monday, July 4th. We will reopen at noon on Tuesday, July 5th.
Ready, Set, Read! 2016 Summer Reading Program
Our Ready, Set, Read Summer Reading Program for kids and teens is happening now! Sign up, get your reading log, and track your reading over the summer to win prizes! Be sure to pick up a summer reading program schedule to see all the cool events that will be going on at the library in June and July!
Exercise Your Mind Summer Reading Program for Adults
Why should the kids have all the fun? We have a summer reading program just for grown-ups, and participants can get entries towards weekly prize drawings and coupons for free books from our used books section. Sign up at the checkout desk!
Summer Reading Program Kickoff Carnival
Celebrate the beginning of the Ready, Set, Read Summer Reading Program with us at our annual kickoff carnival on Saturday, June 25th from 6-8 PM. We'll have free carnival games with prizes, a Bounce House, and snacks available for a small donation to the Friends of the Library. This carnival is free and open to kids of all ages. Rain date to be announced.
Lego Camp
Kids who have enjoyed our monthly Club Lego will want to sign up for our week long Lego Camp that will happen every day from 9 AM-noon from June 27th-July 1st. Kids ages 6-12 can do daily Lego activities in the library's community room. NOTE: Lego Camp is full, but we are keeping a wait list in case there are cancellations. Call 684-1133 to get your child on the waitlist.
Tech Tuesdays
Kids and teens ages 8-14 can do hands-on STEM related activities at our Tech Tuesdays happening on June 21st and July 5th, 12th, 19th, and 26th from 5-7 PM. Explore circuits, computer programming, robotics, engineering, science, and more!
Summer Story Time
On July 11th there will be a special summer story time in our community room at 10:30 Am. Stories, crafts, songs, and activities to move to for ages 18 months-5 years. An additional Summer Story Times will be held on July 25th at the same time.
Ready, Set, GROW!
The Blair County Conservation District and Seedballs.com have teamed up to bring a gardening program for kids ages 4 and up. Make and take 3 types of seed balls, explore soil, sing about dirt, and dance like a plant. Join us for some good GREEN fun on Wednesday, July 13th at 1 PM.
Procraftinators Crafting Meetup
Procraftinators: Procrastinating Crafters! Join your fellow crafters and tackle those unfinished projects at our Procraftinators Craft Meetup on Thursday, July 14th from 5-7 PM. Crafters are responsible for bringing their own materials/projects. All crafting types and levels of ability are welcome!
Big Kids Play!
Kids ages 9 and up can learn to yo-yo, spin plates, and master the diabolo and kendama in a fun, no-pressure environment on Wednesday, July 20th at 10:30 AM. Adults welcome too!
Drop-In Art Days
On Friday July 15th the library will have special art projects kids of all ages can complete from 1-3 PM. Drop in and make art! Additional Drop-In Art Days will be held on July 22nd, and July 29th at the same time.
Pokemon Club
Our next Pokemon Club meetup will be on Saturday, July 16th from noon-2 PM. Pokemon club is for kids ages 6-10, and is free, but we ask that caregivers stay in the building while the kids play.
Teen Trivia Night
Teenagers can meet in the community room on Thursday, July 21st at 6 PM for our Teen Trivia Night! Trivia in multiple categories, free snacks, and prizes for the winners!
Club LEGO: THE SUMMER LEGOLYMPICS
Our July Club Lego will be happening on Saturday, July 30th from noon-2 PM. Let the games begin! Our July Club Lego celebrates the summer Olympics! Build your favorite Olympic game in Lego form, or create future games! This program is free and open to kids ages 6-13, but we ask that caregivers stay in the building while the kids construct.
Get E-Books With Overdrive
Free e-books are available with your library card through the Altoona District Libraries
Log-in with the barcode on your library card, leaving off the last character unless it's a number.