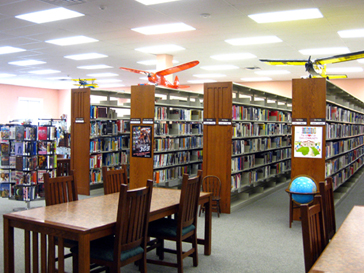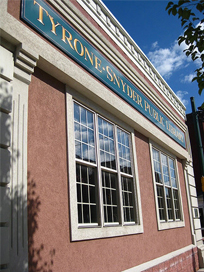 Thanksgiving Schedule
The library will be closed for the Thanksgiving holiday from Thursday, November 27th through Sunday, November 30th. We will reopen at noon on Monday, December 1st. From the library family to yours, best wishes for a Happy Thanksgiving!
Procraftinators Craft Nights
Procrastinating crafters = procraftinators! Join us for an evening of crafting & conversation from 5-7 PM on Thursday, November 13th. We provide ample crafting space & electricity: you bring your crafting supplies and creativity.
Christmas Wreath Workshop
The Blair County Conservation District will be presenting a workshop on creating an all-natural Christmas wreath in the library's community room on Saturday, November 22nd at 10:30 AM. There is a $10.00 fee for this workshop that includes all the materials you will need, including a reusable wire wreath frame. If you have your own wreath frame, the cost is $5.00. To sign up, call us at 684-1133, message us on Facebook, or sign up at the checkout desk. Space is limited, so sign up ASAP!
Festival of Trees
The Tyrone-Snyder Public Library will be presenting its first ever Festival of Trees fundraiser at a special open house to be held in the library (1000 Pennsylvania Ave. Tyrone, PA) following the Christmas parade on Friday, December 5th at 6:30 PM. Local organizations, businesses, and individuals have donated fully decorated Christmas trees that will be on display in the library. The trees will then be raffled off on December 12th. Tickets for the trees will be available in the library the night of the open house and through the 12th. Refreshments will also be served. For more information, call the library at 682-1016.
Careerlink Services Cancelled
Until further notice, the monthly Careerlink services available at the library have been cancelled. For Careerlink services, visit blaircareerlink.org.
Story Hour is Back!
Our weekly story hour for children ages 3-5 will begin on Monday, September 15th and continue every Monday from 1-2 PM until December 15th. To sign up your child, register at the checkout desk, message us on Facebook, or call us at 684-1133. Story hour combines books, songs, crafts, games, and nursery rhymes and is free.
Babies Boogie
Babies Boogie, our song and dance themed story time and playgroup for children ages birth-3 years, is boogieing back to the library every Thursday morning from 10:00-11:30 AM until December 18th. To sign up your child, register at the checkout desk, message us on Facebook, or call us at 684-1133. This program is free and open to the public, but caregivers must stay with their children. Materials for Babies Boogie has been funded by generous grants from the Central Pennsylvania Community Foundation and the Altoona Sunrise Rotary.
Get E-Books With Overdrive
Free e-books are available with your library card through the Altoona District Libraries
Log-in with the barcode on your library card, leaving off the last character unless it's a number.
Visit Our Blog!
Learn more about what goes on at the library at our Happenings at the Library blog.