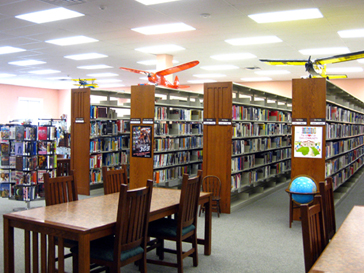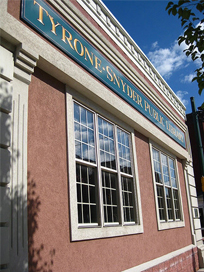 Plant Sale
Our Friends of the Library will hold their annual Plant Sale on Saturday, June 4th from 10 AM-noon. We'll have a variety of houseplants, vegetables, flowers, herbs, and other gardening items for sale. Donations can be dropped off at the library up to and including the morning of the sale. All proceeds benefit the Friends of the Tyrone Snyder Public Library.
Pokemon Club
Our next Pokemon Club meetup will be on Saturday, June 11th from noon-2 PM. Pokemon club is for kids ages 6-10, and is free, but we ask that caregivers stay in the building while the kids play.
Ready, Set, Read! 2016 Summer Reading Program
Monday, June 13th is the first day of our Ready, Set, Read Summer Reading Program. Sign up, get your reading log, and track your reading over the summer to win prizes! Be sure to pick up a summer reading program schedule to see all the cool events that will be going on at the library in June and July!
Explorers Hike
Miss Lana will be presenting an explorer's hike at the Albemarle Nature Trail on Wednesday, June 15th from 6-8 PM. Hike, play, and learn about the different environments on the Albemarle Nature Trail! Meet at the trail head across the road from the parking lot.
Craft Olympics
Go for the gold–the crafting gold! The library will be presenting an all-ages Olympics themed craft night on Thursday, June 16th from 5-7 PM.
Summer Story Time
On June 20th there will be a special summer story time in our community room at 10:30 Am. Stories, crafts, songs, and activities to move to for ages 18 months-5 years. Additional Summer Story Times will be held on July 11th and 25th at the same time.
Procraftinators Crafting Meetup
Procraftinators: Procrastinating Crafters! Join your fellow crafters and tackle those unfinished projects at our Procraftinators Craft Meetup on Thursday, June 16th from 5-7 PM. Crafters are responsible for bringing their own materials/projects. All crafting types and levels of ability are welcome!
Drop-In Art Days
On Friday June 17th the library will have special art projects kids of all ages can complete from 1-3 PM. Drop in and make art! Additional Drop-In Art Days will be held on July 15th, July 22nd, and July 29th at the same time.
Club LEGO: SUMMER FUN
Our June Club Lego will be happening on Saturday, June 18th from noon-2 PM. Picnics. Hikes. Bike rides. Going to the pool. Spaghetti Wednesdays at DelGrosso's. What will you do for fun this summer? Our June Club Lego celebrates summer fun in Lego form! This program is free and open to kids ages 6-13, but we ask that caregivers stay in the building while the kids construct.
Teen Trivia Night
Teenagers can meet in the community room on Thursday, June 23rd at 6 PM for our Teen Trivia Night! Trivia in multiple categories, free snacks, and prizes for the winners!
Summer Reading Program Kickoff Carnival
Celebrate the beginning of the Ready, Set, Read Summer Reading Program with us at our annual kickoff carnival on Saturday, June 25th from 6-8 PM. We'll have free carnival games with prizes, a Bounce House, and snacks available for a small donation to the Friends of the Library. This carnival is free and open to kids of all ages. Rain date to be announced.
Lego Camp
Kids who have enjoyed our monthly Club Lego will want to sign up for our week long Lego Camp that will happen every day from 9 AM-noon from June 27th-July 1st. Kids ages 6-12 can do daily Lego activities in the library's community room. Registration is required in this program, and space is limited, so call 682-1017, e-mail info@tyronelibrary.org, or message us on Facebook to get your kids signed up!
Living History in Tyrone
A local student is conducting interviews with senior citizens living in Tyrone for a Honor Society Community Service Project, and the interviews are being held at the library. Any seniors interested in participating can call Brandon at 684-2764 to schedule an interview appointment. Interview times are available from 3:30-4:00 on Wednesdays and from 5-7 on Thursdays. Completed interviews will be published on the Tyrone Area High School website and the Daily Herald.
Babies Boogie
Babies Boogie, our music and dance themed story time and playgroup for children ages 18 months-3 years, boogies into the library every Thursday from 10:30-noon from January 14th through May 26th. To register your child, call 684-1133, sign up in person at the checkout desk, or message us on Facebook. Babies Boogie is free and open to the public, but we ask that caregivers stay with their children during the program.
Story Hour
Our weekly story hour for children ages 3-5 is every Monday at 10:30 AM from January 11th through May 23rd. To register your child, call us at 684-1133, or message us on Facebook. Story hour is free and open to the public, but we ask that caregivers remain in the building while their children attend the program.
Get E-Books With Overdrive
Free e-books are available with your library card through the Altoona District Libraries
Log-in with the barcode on your library card, leaving off the last character unless it's a number.