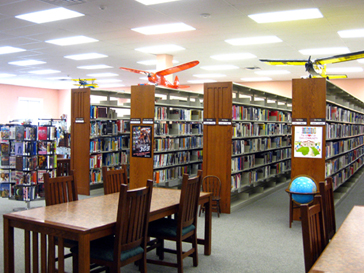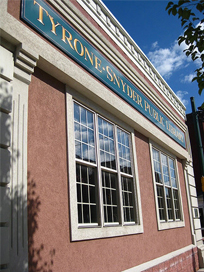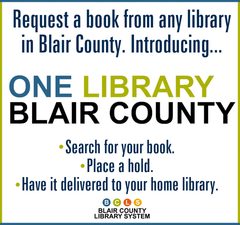 Get Library Books from Any Blair County Library!
It is now possible to request books and other materials from any library in Blair County. Click
here
for instructions, or ask a librarian for help.

Complementary access to the New York Times online is now available through the library! To activate your subscription, you will need to log in or register first. Click
here
for 24 hours of full off-site access to NYTimes.com.
GED Classes: Sign Up to Get Them Started!
The library has started a list for a possible GED class to be held here in the near future. If you want to get on the list, call us at 684-1133 or message us on Facebook. The more people we can get signed up, the sooner class can begin!
Grow Native with Native Plants
Grow Native and learn how and why you should cultivate local plants in your garden with the following events happening on Saturday, April 29th:
10:30 AM-11:30 AM: Talk with Diane Albright of the Pennsylvania Native Plant Society about the importance of planting native plants and helpful tips on how to go native. This talk is suited for adult gardeners.
11:30 AM-1:30 PM: The plant doctor is in! Lisa Merschiltz of the Blair Garden Club will be available to answer your gardening questions.
Noon-1 PM: For children who love to get their hands in the dirt, Suzanne Black of the Blair County Conservation District will present a kid-friendly demonstration on the importance of pollinators to native plants.
During the day we'll be giving away free native seeds and raffle off a free copy of Bringing Nature Home by Douglas Tallamy.
This program is free and open to the public.
Friends of the Library Meeting
Our Friends of the Library will be holding their next meeting in the library's history room on Tuesday, May 2nd at 6 PM. This meeting is open to the public. Friends of the Library help library staff with programs and fundraising, and new members are always welcome! Get involved, and help the library continue to be a great community resource!
Sixteen Candles for Sixteen Concerts: TICKETS ON SALE NOW!
Our 2017 fundraising concert on Saturday, May 6th 2017 will feature Oscar winning Nashville artist Vanessa Campagna and a very special guest appearance by the Brooklyn Bridge. For tickets, call 684-2030. To hear more, visit http://www.vanessacampagna.com/ and The Brooklyn Bridge greatest hits !
Cube Club
Like Rubik's Cubes? Want to learn how to master the cube in record time? Join Zac J. for our Cube Club on Tuesday, May9th from 3:45-4:45 PM and learn the secrets of Rubik's Cube success! This free program is for kids elementary age and up. Bring your own cube, or use one of ours!
Procraftinators Crafting Meetup
Procraftinators are Procrastinating Crafters! Our Procraftinators Craft Group will meet on Thursday, May 11th from 5-7 PM.
Free Songwriting Workshop with Bill Dann
Bill Dann has written multiple songs that have been viral video hits on youtube, and now he's going to share his secrets of songwriting success with you! Join Bill on Saturday, May 13th from 10:30 AM-noon for a workshop on how to write catchy, memorable songs. This free workshop is for all ages, but children under the age of 9 must be accompanied by an adult.
Joybeans Coffee and Cookies Day
We're paying tribute to Wendy Boytim and her much loved, much missed Joybeans coffee shop with free coffee, tea, and homemade cookies in the library from noon-7 PM on Tuesday, May 16th!
Many thanks to the Women's Club of Tyrone for making this regular event possible. Watch our facebook page and website for future Joybeans Coffee and Cookies dates.
Why Quilts Matter Screening
If you've enjoyed our Craft in America series, you'll also enjoy this free screening of the "How Quilts Have Been Viewed and Collected" and "Empowering Women One Quilt at a Time" episodes of the PBS series Why Quilts Matter: History, Art, and Politics on Tuesday, May 16th at 11:30 AM. Like our Craft in America series, the screening will be followed by an optional discussion. Bring a lunch if you like, and enjoy a complementary dessert & beverages.
Essential Oils for Women's Health
On Thursday, May 18th at 5:30 PM, Carol Scarbro of the Allegheny Essential Oils Club is presenting a free class on Essential Oils for women's health. Women can learn which oils can help to keep health in alignment at various stages of their lives. Registration is required for this free program. To register, sign up at the checkout desk, message the library on Facebook, or call 684-1133. Free sample of an essential oil for new attendees!
May Lego Club
This will be the coolest Lego Club ever! At our May Lego Club on Saturday, May 20th from noon-2 PM, kids can extract a mini-figure and other Legos from carbonite and use the extracted pieces to tell a story! Club Lego is for kids ages 6-13 and is free. Adult supervision is not required, but we do ask that caregivers stay in the building while kids construct.
Free Weekly Story Hour for Kids 3-5
Story Hour happens every Monday at 10:30 AM until May 8th. Story hour is for kids ages 3-5 and incorporates stories, songs, games, crafts, and fun! This program is free and open to all children ages 3-5, but we ask that a caregiver stay in the building while the child attends the program. To register your child, message us on Facebook or call 684-1133.
Babies Boogie
Babies Boogie boogies into the library on Thursdays at 10:30 AM. Babies Boogie, our song and dance themed story time for children ages 18 months-3 years happens every Thursday until May 11th. Walk-ins and new families are always welcome! Babies Boogie is free and open to the public, but we ask that a caregiver stay with the child for the duration of the program.
Ancestry.com Available in the Library
Ancestry.com access is now available at the library! Use ancestrylibrary.com in our computer lab, or access it inside the library via your laptop or ipad. Please note that Ancestry.com access is only available in the library. You will not be able to to access it via this link if you are viewing our website at home.
Get E-Books With Overdrive
Free e-books are available with your library card through the Altoona District Libraries
Log-in with the barcode on your library card, leaving off the last character unless it's a number.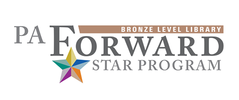 The Tyrone-Snyder Public Library is proud to be a PA Forward Bronze Star Library. Learn more about what PA Forward Libraries do for the communities they serve at PAForward.org