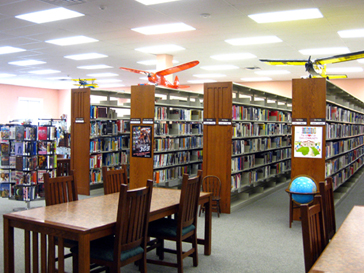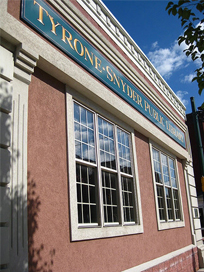 Trash to Treasure Sale Donations Needed
Our Friends of the Library will be holding their annual Trash to Treasure Sale during Irish Heritage Fest on March 14th, and we are asking for donations of new and gently used household & kitchen items, seasonal decorations, small furniture, toys, collectables, jewelry, and other new or gently used items. Donations for the sale can be dropped off at the library during our regular hours. Thank you for your support!
Shillelagh Shenanigans: Irish Heritage Fest Family Fun Night
We'll be celebrating Irish Heritage Fest with Shillelagh Shenanigans, an evening of Saint Patrick's Day themed crafts & stories for kids on Friday, March 13th from 7-9 PM. Irish Heritage Fest Master of Ceremonies K.C. Kantz will be reading to the kids at 7 PM, we'll have free craft activities for kids, and our Friends of the Library will be holding a bake sale all evening. Join us as we help Tyrone Events and Promotions paint the town green!
Who Loves You?: A Tribute to Frankie Valli and the Four Seasons and Beyond
Tickets for our 2015 concert are now on sale! On May 2nd, 2015 at 7 PM, in the Tyrone Area High School Auditorium, the Friends of the Tyrone-Snyder Public Library will be presenting Who Loves You? a Tribute to Frankie Valli & the Four Seasons and Beyond. Featured opening act is Vegas by way of Bedford entertainer Ricky Howsare. For tickets, call 682-1017.
Procraftinators Craft Nights
Procraftinators = procrastinating crafters! Bring those unfinished craft projects to the library and get to know your fellow crafters at our next craft nights on Thursday, February 12th and 26th from 5-7 PM. You bring your own crafting supplies, we provide ample crafting space and electricity. Craft Night is free and open to the public. Walk-ins welcome!
Club LEGO: Open in 2015!
Beat the winter blues at the first in a series of special Lego events at the Tyrone-Snyder Public Library. Kids ages 6-13 can join their fellow Lego enthusiasts for an afternoon of non-stop building on Saturday, February 28th from noon-2 PM. This program is free and open to the public, but we ask that caregivers stay in the library while the kids construct.
Cooking for Crowds Food Safety Workshop
The library will be hosting a Penn State Extension Cooking for Crowds workshop on Saturday, March 7th from 9 AM-noon (snow date is March 21st at the same time). Learn what causes food-borne illness and how to prevent it, and how to safely cook food for crowds. There is a $40 registration fee per person or for 1-5 people representing an organization ($5 for each additional person). Register online at http://extension.psu.edu/food/safety/courses/cooking-for-crowds-volunteer-food-safety or call 814-940-5989. Registration deadline is February 28, 2015. This workshop is sponsored by the Sinking Valley Presbyterian Church Women.
Healthy Kidz Club: Free Educational Series for Parents & Children
Health and wellness specialist and personal trainer Tracey Stroup will be presenting a free 6-week series for families on health and nutrition for children and caregivers in the library's community room starting March 4th and continuing every Wednesday until April 8th. Each session will be presented at 1:30 PM and again at 5:30 PM: the same topic will be covered at the two sessions, so caregivers can pick and choose the time that works for their schedule. The series is as follows:
Wednesday, March 4th at 1:30 PM and 5:30 PM: Nutrition 101: Eating for A's: Nutrition and Brain Health
Wednesday, March 11th at 1:30 PM and 5:30 PM: Boosting Immunity
Wednesday, March 18th at 1:30 PM and 5:30 PM: Supporting Spectrum Children and Other Neurological Conditions
Wednesday, March 25th at 1:30 PM and 5:30 PM: Age Appropriate Exercise
Wednesday, April 1st at 1:30 PM and 5:30 PM: Alternative Therapies for Baby Health
Wednesday, April 8th at 1:30 PM and 5:30 PM: A Healer in Every Home: Taking Back Your Family's Health
For more information or any additional questions, e-mail Tracey at trainedbytracey@gmail.com
Story Hour at the Library
Our Story hour for children ages 3-5 runs Monday from 1-2 PM until May 18th. To sign up your child, register at the checkout desk, message us on Facebook, or call us at 684-1133. Story hour combines books, songs, crafts, games, and nursery rhymes and is free.
Babies Boogie
Babies Boogie, our song and dance themed story time and playgroup for children ages birth-3 years, runs every Thursday from 10:00-11:30 AM. To sign up your child aged 18 months-3 years, register at the checkout desk, message us on Facebook, or call us at 684-1133. This program is free and open to the public, but caregivers must stay with their children. Materials for Babies Boogie has been funded by generous grants from the Central Pennsylvania Community Foundation and the Altoona Sunrise Rotary.
Get E-Books With Overdrive
Free e-books are available with your library card through the Altoona District Libraries
Log-in with the barcode on your library card, leaving off the last character unless it's a number.