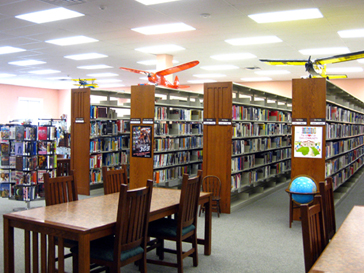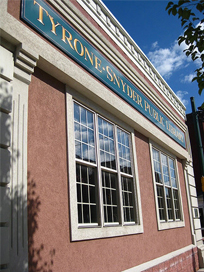 Thanksgiving Schedule
The library will be closed for the Thanksgiving holiday from Thursday, November 26th through Saturday, November 28th. We will reopen at noon on Monday, November 30th. From our families to yours, best wishes for a very happy Thanksgiving.
Festival of Trees
Our Festival of Trees has begun! Buy chances to win beautiful, fully decorated Christmas trees at the library and at other locations in Tyrone and support the library at the same time. We'll be selling chances from now until December 11th, when the winners will be drawn. Get your tickets at the library or supporting locations. Visit our Facebook for more details!
Yuletyme Christmas Open House
The library will be holding a special Christmas open house during the carriage rides going on in downtown Tyrone on Sunday, November 29th from 1-4 PM. Come look at our Festival of Trees entries, enjoy light refreshments, and get out of the cold. We'll also have activities for children throughout the afternoon.
Yuletyme Christmas Cookie Sale & Boutique
We'll be holding our annual Christmas cookie sale and gift boutique on Saturday, December 5th from 10 AM-2 PM. Buy a la carte Christmas cookies and stock up for the holiday and buy crafts and direct sales favorites from our vendors. Interested vendors can contact us via Facebook to reserve a table.
Blair County Conservation District Wreath Making Workshop
The Blair County Conservation District will be presenting a Natural Wreath Making Workshop in the library's community room on Saturday, December 5th at 10:30 AM. Make a gorgeous wreath with all-natural materials provided by the Blair County Conservation District. There is a $10 fee for this workshop that includes a reusable metal frame for your wreath. If you have attended past workshops and have a metal frame, the cost is just $5 for materials. To register, call 684-1133 or message us via Facebook. Space is limited, so register as soon as possible.
Crafternoons
The 2nd Tuesday of every month is our Crafternoon (that's crafting afternoon)! Each crafternoon will feature a project for teens, tweens, and adults, and projects will often incorporate recycled materials. The library will supply all the crafting supplies you need–just bring your creativity! The next Crafternoon will be on Tuesday, December 8th from 4:00-5:30 PM. This program is free and open to the public.
Procraftinators Crafting Meetup
Procraftinators: Procrastinating Crafters! Join your fellow crafters and tackle those unfinished projects at our Procraftinators Craft Meetup on Thursday, December 10th from 5-7 PM. Crafters are responsible for bringing their own materials/projects. All crafting types and levels of ability are welcome!
Pokemon Club
Our next Pokemon Club meetup will be on Saturday, December 12th from noon-2 PM. Pokemon club is for kids ages 6-10, and is free, but we ask that caregivers stay in the building while the kids play.
Teen Trivia Night
Teenagers can meet in the community room on Thursday, December 17th at 6 PM for our Teen Trivia Night! Trivia in multiple categories, free pizza and snacks, and prizes for the winners!
Club LEGO
Our December Club Lego will be happening on Saturday, December 19th from noon-2 PM. Club Lego is for children ages 6-13. This program is free and open to the public, but we ask that caregivers stay in the library while the kids construct.
Babies Boogie
Babies Boogie, our music and dance themed story time and playgroup for children ages 18 months-3 years, boogies into the library every Thursday from 10:30-noon until December 17th. To register your child, call 684-1133, sign up in person at the checkout desk, or message us on Facebook. Babies Boogie is free and open to the public, but we ask that caregivers stay with their children during the program.
Story Hour
Our weekly story hour for children ages 3-5 is every Friday until December 18th. To register your child, call us at 684-1133, or message us on Facebook. Story hour is free and open to the public, but we ask that caregivers remain in the building while their children attend the program.
Get E-Books With Overdrive
Free e-books are available with your library card through the Altoona District Libraries
Log-in with the barcode on your library card, leaving off the last character unless it's a number.
Letterman 2016 Concert Tickets on Sale Now!
The Lettermen are coming back in 2016 with their Best of Broadway show! The Best of Broadway with the Lettermen will be Saturday, May 7, 2016 at 7:00 PM at the Tyrone Area High School auditorium. For tickets, call 814-684-2030. Tickets are $35 each, all seats reserved.