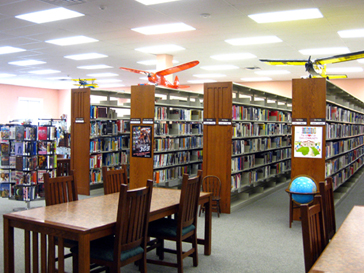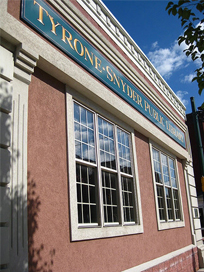 Help Us be Debt Free!
It's now possible to donate to the library's mortgage fund via youcaring: our goal is be debt-free by May of 2018, and if everyone who recognizes the importance of the library to the Tyrone-Snyder community, we know we can reach it! Please donate, and share with your friends!
Independence Day Schedule
The library will be closed in observance of Independence Day on Tuesday, July 4th. We will reopen at noon on Wednesday, July 5th.

Complementary access to the New York Times online is now available through the library! To activate your subscription, you will need to log in or register first. Click
here
for 24 hours of full off-site access to NYTimes.com.
Alleghenies Ahead Survey
The Blair County Planning Commission seeks your input for Alleghenies Ahead, their new strategic plan. Please provide the Commission with your views on how your tax dollars should be spent on issues such as: blighted properties, drugs, infrastructure, shopping, economic development in an online survey available at http://allegheniesahead.com/.
Build a Better World Summer Learning Program
Registration for Build a Better World, our 2017 Summer Learning Program for children and teens, will begin on Monday, June 12th, from noon-5 PM. Get an activity log, start reading and working on other activities, and earn prizes! Weekly events for kids will be held in conjunction with the program. This program is for children and teens ages 0-17.
Lego Night
Lego Club members will enjoy the first in a series of special evening Lego events at our first Lego Night on Tuesday, June 27th, from 5-7 PM. Kids ages 6-12 can participate in special Lego themed challenges such as bridge building, mini-figure extraction, balloon cars, and more! This program is free and open to the public, but we ask that a caregiver stay in the building while children construct.
Essential Oils Make-and-Take Workshop
On Thursday, June 29th, at 5:30 PM, Carol Scarbro of the Allegheny Essential Oils Club will be presenting a hands-on workshop that will give you the opportunity to make your own essential oil roller ball. Choose your own blend of oils, mixing to target a specific condition or use a bio-feedback Zyto scan to customize your oil. There is a $15 registration fee for this workshop. Multiple roller balls can be made and will cost an additional $15 each. To register, call 684-1133, message us on Facebook, or sign up at the checkout desk.
Make Art Day
Kids ages 4 and up can enjoy a variety of art-based activities on Friday, June 30th, and Friday, July 7th from 1-3 PM. Children and caregivers can show up at any time during the two hour block and complete as many projects as they like.
July Summer Storytimes
Our July Summer Storytimes will be happening on Monday, July 3rd, July 17th, and July 31st at 10:30 AM. Kids can join Miss Lana for stories, songs, games, crafts, and other library fun. Summer storytimes are for children ages 18 months-5 years, and are free and open to the public, but we ask that caregivers stay with their children during the program.
Build a Better Backyard
Little hands can make a big difference by building a better backyard for birds, butterflies and bees! The Blair County Conservation District and Seed-Balls.com are offering this free program for kids of all ages on Thursday, July 6th at 1 PM. Kids can make and take seed balls of native plants, build a bird feeder, and sing a bird song! Join us for some GOOD GREEN FUN! This free program is for all ages, but caregivers may need to assist very young children.
Lego Club: All-American Edition
To celebrate Independence Day at our July Lego Club on Saturday, July 8th from noon-2 PM, we're giving club members a pick of two challenges: to build using only red, white, and blue bricks, or design your favorite way to celebrate Independence Day. Lego Club is for ages 6-13. This program is free and open to the public, and no registration is required, but we ask that caregivers stay in the building while children construct.
Playground Hijinks Concert
Playground Hijinks with Miss Tami and Mr. Jeremy will rock the toddler and preschool crowd at a free concert on Monday, July 10th at 6 PM. This concert is for children ages 18 mos-5, but music lovers of all ages are welcome.
Tech Tuesday
This summer the library is proving that science and technology can be fun! Kids ages 8-14 can experiment with circuits, computer programming, robotics, and engineering at our July Tech Tuesdays on Tuesday happening on July 11th and July 25th from 5-7 PM. This program is free and open to the public.
Pool Party to Benefit the Library
Cool off for a cause at the Tyrone Community Pool! On Wednesday, July 12th from 8-10 PM, the Tyrone Community Pool will be offering free admission to a pool party if you bring a book or school supply as your admission donation. Calvary Tyrone will be providing food, music, contests, and activities all evening.
Cube Club Back in July!
Cube Club is coming back in July! Learn how to master the Rubik's Cube in record time with expert cubist Zach J. at our two Cube Club sessions happening on Thursday, July 13th and Thursday, July 27th at 5:30 PM. Bring your cube, or use one of ours.
Procraftinators Crafting Meetup
Procraftinators are Procrastinating Crafters! Our Procraftinators Craft Group will meet on Thursday, July 13th, from 5-7 PM.
Joybeans Coffee and Cookies Day
We're paying tribute to Wendy Boytim and her much loved, much missed Joybeans coffee shop with free coffee, tea, and homemade cookies in the library from noon-7 PM on Tuesday, July 18th.
Many thanks to the Women's Club of Tyrone for making this regular event possible. Watch our facebook page and website for future Joybeans Coffee and Cookies dates.
Summer Carnival
Our annual carnival has been rescheduled for Saturday, July 22nd from 6-8 PM. Please join us on July 22nd for free carnival games for kids, a bounce house, and prizes galore! Refreshments will be available for a small donation. Children who bring school supply donations for our Equip our Eagles school supply drive will receive bonus game tickets.
Progeny Potions Make-and-Take Workshop
Little wizards, witches, princes, and princesses of all ages are invited to a kid-friendly essential oil make-and-take workshop on Thursday, July 20th at 5:30 PM. Empower your child by letting them choose and make a custom essential oil blend rollerball designed to help with a runny nose, be happier, sleep better, grow, focus, help with teething, earaches, headaches, tummy issues and more. This program is presented by Carol Scarbro of the Allegheny Essential Oils Club. There will be a $15 fee per rollerball, and registration is required. To register, call 684-1133, message us on Facebook, or sign up at the checkout desk.
Microwave Mug Meals
What can you make in a mug? In this hands-on cooking class in the library's community room on Thursday, July 20th at 6 PM, teens can learn to cook meals safely by themselves using a microwave. Make and taste test coffee cup quiche, egg fried rice in a mug, coffee cup chilaquiles, and 3-ingredient microwave mug Nutella brownies. This is a free program, but registration is required.To register, call 684-1133, message us on Facebook, or sign up at the checkout desk.
Yoga for Kids
Yoga instructor Di Strohm will be presenting a series of free yoga classes for kids ages 9-13 starting on Saturday, July 22nd from 2:15-3:15 PM and continuing every Saturday at the same time through August 12th. These sessions are suitable for beginners and beyond. Caregivers may participate if space allows. Bring your own yoga mat or borrow one of ours. You do not have to attend each session to participate. Please wear comfortable, athletic clothes. Yoga has many benefits for kids including focus, relaxation, and fitness–join us for some relaxing fun!
Women and Money
On Monday, July 24th at 6 PM Thrivent Financial will be presenting a special program that discusses the unique financial challenges women face. A light meal will be served with the program starting at 6pm. Registration is required for this free program. To register, call 684-1133, message us on Facebook, or sign up at the checkout desk.
Monastery Community Garden Tour
On Thursday, July 27th at 10:30 AM, the library will be presenting a tour of the Monastery Community Garden in Hollidaysburg (address is 793 Monastery Rd., Hollidaysburg, PA 16648). Meet at the library and caravan to the garden, or meet at the garden directly at 10:30 AM. Bring a sack lunch and enjoy a picnic lunch in the garden following the tour. Registration is required for this tour. A rain date has been set for August 3rd.
Scavenger Hunt!
Kids ages four and up can meet Miss Lana at the Train Park on Friday, July 28th at 10:30 AM for a good old fashioned scavenger hunt. Find the items on the list and win prizes!
Free GED Classes
Free GED classes are being held in the library Tuesdays and Thursdays from 12:30-3:00 PM. To register, call us at 684-1133 or message us on Facebook.
2018 Josh Gallagher Concert: Tickets on Sale NOW!
Our 2018 fundraiser concert stars Josh Gallagher, and tickets are on sale now! Save the date for Saturday, May 5th, 2018, and get your $35 dollar ticket at the library checkout desk or by calling 684-2030.
Ancestry.com Available in the Library
Ancestry.com access is now available at the library! Use ancestrylibrary.com in our computer lab, or access it inside the library via your laptop or ipad. Please note that Ancestry.com access is only available in the library. You will not be able to to access it via this link if you are viewing our website at home.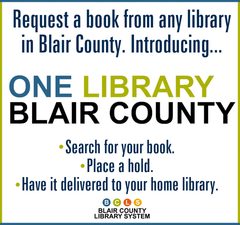 Get Library Books from Any Blair County Library!
It is now possible to request books and other materials from any library in Blair County. Click
here
for instructions, or ask a librarian for help.
Get E-Books With Overdrive
Free e-books are available with your library card through the Altoona District Libraries
Log-in with the barcode on your library card, leaving off the last character unless it's a number.
We are a PA Forward Star Library
The Tyrone-Snyder Public Library is proud to be a PA Forward Star Library. Learn more about what PA Forward Libraries do for the communities they serve at PAForward.org