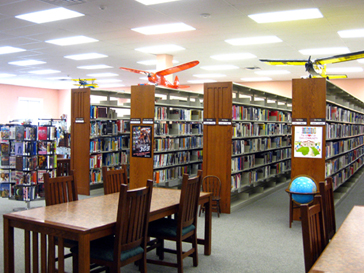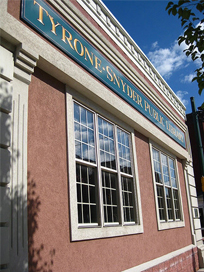 Help Us be Debt Free!
It's now possible to donate to the library's mortgage fund via youcaring: our goal is be debt-free by May of 2018, and if everyone who recognizes the importance of the library to the Tyrone-Snyder community, we know we can reach it! Please donate, and share with your friends!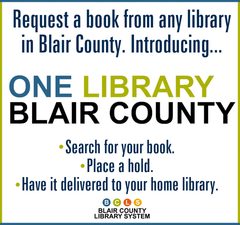 Get Library Books from Any Blair County Library!
It is now possible to request books and other materials from any library in Blair County. Click
here
for instructions, or ask a librarian for help.

Complementary access to the New York Times online is now available through the library! To activate your subscription, you will need to log in or register first. Click
here
for 24 hours of full off-site access to NYTimes.com.
Memorial Day Schedule
The library will be closed in observance of the Memorial Day holiday on Saturday, May 27th and Monday, May 29th. We will reopen to the public on Tuesday, May 30th at noon.
Essential Oils for Women's Health
On Thursday, May 18th at 5:30 PM, Carol Scarbro of the Allegheny Essential Oils Club is presenting a free class on Essential Oils for women's health. Women can learn which oils can help to keep health in alignment at various stages of their lives. Registration is required for this free program. To register, sign up at the checkout desk, message the library on Facebook, or call 684-1133. Free sample of an essential oil for new attendees!
May Lego Club
This will be the coolest Lego Club ever! At our May Lego Club on Saturday, May 20th from noon-2 PM, kids can extract a mini-figure and other Legos from carbonite and use the extracted pieces to tell a story! Club Lego is for kids ages 6-13 and is free. Adult supervision is not required, but we do ask that caregivers stay in the building while kids construct.
Plant Sale
The Friends of the Tyrone-Snyder Public Library will hold their annual plant sale on Saturday, June 3rd, 2017 from 10 AM-2 PM. Houseplants, landscaping plants, and edible plants will be available. The sale will be outside the front of the library. In the event of rain, it will be moved inside. All proceeds benefit the Friends of the Tyrone-Snyder Public Library. Donations for the sale can be dropped off any time the library is open up until the morning of the sale.
Friends of the Library Meeting
Our Friends of the Library will be holding their next meeting in the library's history room on Tuesday, June 6th at 6 PM. This meeting is open to the public. Friends of the Library help library staff with programs and fundraising, and new members are always welcome! Get involved, and help the library continue to be a great community resource!
Procraftinators Crafting Meetup
Procraftinators are Procrastinating Crafters! Our Procraftinators Craft Group will meet on Thursday, June 8th from 5-7 PM.
Build a Better World Summer Reading Program
Registration for Build a Better World, our 2017 Summer Reading Program for children and teens, will begin on Monday, June 12th from noon-5 PM. Get an activity log, start reading and working on other activities, and earn prizes! Weekly events for kids will be held in conjunction with the program. This program is for children and teens ages 0-17.
Free Magic Show with M&M Magic!
Everyone's favorite magicians Bobby and Danny of M&M Magic are coming back for a FREE magic show on Tuesday, June 13th at 6 PM. Comedy, magic, and non-stop fun for kids of all ages and their grown-ups!
Joybeans Coffee and Cookies Day
We're paying tribute to Wendy Boytim and her much loved, much missed Joybeans coffee shop with free coffee, tea, and homemade cookies in the library from noon-7 PM on Tuesday, June 20th!
Many thanks to the Women's Club of Tyrone for making this regular event possible. Watch our facebook page and website for future Joybeans Coffee and Cookies dates.
Seniors for Safe Driving Course
The library will be hosting a PennDOT approved improvement course for drivers ages 55 and older on Thursday, June 22nd from 5-9 PM and Friday, June 23rd from 1-5 PM. Register with Seniors for Safe Driving by calling 1-800-559-4880 or visiting www.seniorsforsafedriving.com. Registration slips are also available at the library. Tuition for the two day course is $16 and can be paid the day of the first class. No exam will be given, and no on the road driving is required for this course. Attendees can receive a 5% discount on their auto insurance premium for three years.
2018 Josh Gallagher Concert: Tickets on Sale NOW!
Our 2018 fundraiser concert stars Josh Gallagher, and tickets are on sale now! Save the date for Saturday, May 5th, 2018, and get your $35 dollar ticket at the library checkout desk or by calling 684-2030.
Free GED Classes
Free GED classes are being held in the library Tuesdays and Thursdays from 12:30-3:00 PM. To register, call us at 684-1133 or message us on Facebook.
Cube Club on Hiatus
The Cube Club is taking a break, and will resume in July. Stay tuned for new dates!
Ancestry.com Available in the Library
Ancestry.com access is now available at the library! Use ancestrylibrary.com in our computer lab, or access it inside the library via your laptop or ipad. Please note that Ancestry.com access is only available in the library. You will not be able to to access it via this link if you are viewing our website at home.
Get E-Books With Overdrive
Free e-books are available with your library card through the Altoona District Libraries
Log-in with the barcode on your library card, leaving off the last character unless it's a number.
We are a PA Forward Star Library
The Tyrone-Snyder Public Library is proud to be a PA Forward Star Library. Learn more about what PA Forward Libraries do for the communities they serve at PAForward.org